Acne is not only painful but also embarrassing and unsightly. It is characterized by red pimples which usually occur on the face mainly on teenagers and adults.
Even more embarrassing are the scars and pimple marks that are left behind after the pimples have healed. The scars will always remind you of the pain you went through when you were battling these pimples.
However, it is worth noting that most of these scars will fade away in a few months. These acne scars and pimple marks should not make you feel helpless as there are a few products such as body wash, moisturizers, face masks and many others, that you can use to remove them to preventing further hyperpigmentation.
Anyways, we should first look at the reasons behind these pesky scars!
Table of Contents
Main Causes of Acne Scars
Everyone can have acne, even if you are a teenager or on your late 20s, 30s and so on, you are still prone to having acne. So, what are the possible causes of acne scars?
There actually a lot of possible factors which causes of acne though experts can't directly link some of those to having acne breakout.
Heredity

– It is believed that acne development or attack runs in the family due to genetics though this still has to be verified by experts.
Food

– Excess oil, chemicals and preservatives, and other elements present or mixed in food can cause or trigger acne attacks. Eating nuts and oily food are said to be major contributors in having acne but experts have to still verify this.
Hormones

– Changing levels of androgens (male hormones) and estrogens (female hormones) can lead to development of acne. Androgens contribute to the increase in production of sebum (oil) and enlargement of sebaceous glands in the skin. And, that explains why teens or women who are having their menstrual period are prone to acne development.
Bacteria

– Propionibacterium acnes, the bacteria that stay on the skin contribute to the developing of acne. It can cause inflammation, redness or irritation once the sebum, oil from the skin's oil glands, was dissolved by enzyme produced by the bacteria.
Stress

– Stress is said to be one of the main factors in having acne, adding to other contributors mentioned here like food, dirt and bacteria. So, better relieve that stress, have a proper diet and enough rest.
Dirt

– Dust and other dirt can block the pores of your skin and it can lead to acne. If you have an oily skin, the more chances you'll it will block and stay on your pores, leading to black and white heads. Once it blocked your pores, it could lead to inflammation and acne.
The 8 DIY Home Remedies For Acne Scars Removal
If you have tried out costly products and even thought about undergoing surgery in order to remove acne scars, you may find that not only are the costs unfortunate but the end results may leave you less than completely satisfied.
Furthermore, when there are many home remedies for acne scars that can provide cheaper and equally effective results why bother with these other options?
There are some very good home remedies for acne scars that can help you achieve excellent results including clearing up the debris, dirt and oil that clogs up the pores in your skin. Once the pores are unclogged chances of suffering from acne are at least reduced considerably.
Lemon juice is one of the best natural acne cures around and yet this method is completely safe. The lemon fruit is known to contain potassium and vitamin C, both of which are beneficial in giving your immune system a boost. In addition, lemon juice contains AHA or Alpha Hydroxy Acids, that is a form of citric acid that is another vital property for combating the causes of acne.
There are two choices of application method when it comes to using lemon juice for acne cure: through topical application and by drinking the lemon juice.
First off, when it comes to topical application of lemon juice for acne cure, you can begin by washing your face first.
Method #1: Squeeze a lemon into a tiny bowl until you have about a teaspoon. Then, soak a cotton ball into the lemon juice until it soaks up enough amount that you can apply into the area of acne. If you notice a burning sensation, dilute the juice with a tiny amount of water.
For best results, you can leave it on overnight and wash it off in the morning. For those with sensitive skin, let it sit for 10 minutes before rinsing it off. Follow this entire lemon juice acne cure for about 2 weeks to notice results.
Method #2: You can also prepare lemon juice drinks for acne cure. This is a great way to cleanse your body internally and allow it to absorb all the essential vitamins and nutrients.
To create a lemon juice recipe to clear up acne, you can try two different variations. You can mix squeezed lemon juice into 2 cups of water and drink it all throughout the day.
Additionally, you can add freshly squeezed lemon juice into warm water. Drink this lemon juice mixture in the morning and avoid eating or drinking anything for half an hour so nothing intervenes with its cleansing action.
For more effective results in the use of lemon juice for acne cure, most would suggest using both application methods. You can regularly apply freshly squeezed lemon juice to the acne and drink lemon juice regularly at the same time. In about 3-week time, you should be able to enjoy blemish-free skin.
2. Use Baking Soda For Exfoliation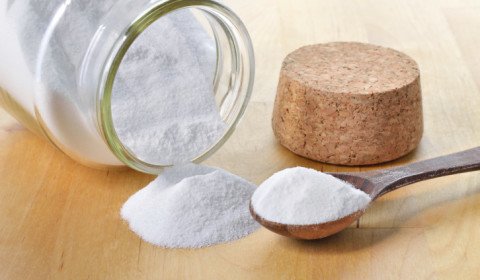 Using baking soda for acne is a well known method and in fact a lot of that have tried this way of getting rid of acne have come away satisfied.
Baking soda can ultimately help you to get rid of acne scars as well as any facial creasing that might spoil your skin. The chemical composition of baking soda includes sodium bicarbonate. This is not a natural chemical and is produced synthetically but it is effective when put onto the skin.
The results of applying baking soda for acne vary from individual to individual. For some people, the results are quick, while for other people the results are a lot slower.
When the results are faster they cause a fading of the scars within 24 hours and the reason is that the paste will have succeeded in having quickly exfoliated the problem area and will have removed the topmost layer of skin while revealing new as well as non-scarred areas that lie below.
When using baking soda for acne you need to realize that it must be applied externally only.
Method: Take one teaspoon of Baking soda (our all time favorite is this brand) and mix it with two teaspoons of water to form a paste. Applying the baking soda mixture directly onto the acne or wrinkles is really effective as long as you leave the mixture on for several minutes and then rinse the area clean.
When I first tried to treat my acne, tea tree oil was the product of choice. Though my acne worsened as I got older because of hormones, tea tree oil fights bacteria-based acne well.
Tea tree oil is a topical acne treatment and contains "terpenes"– this is a component produced by most plants as an essential oil, and in tea tree oil's case, kills bacteria with very little side effects.
Tea tree oil products can come in cover sticks, but if you can't get that to match your skin tone, its typical form is a clear oil, no one will know you're wearing it if you choose to use it throughout the day.
Method: Mix ½ teaspoon of Tea tree oil (We love this brand that offers excellent quality of oil) with 2 tsp of water, once mixed apply to the clear skin with the help of cotton balls.
The sap of Aloe Vera can be used to treat many conditions including red pimples, burns, and wounds and so on. It is a natural moisturizer that helps to rejuvenate your skin. If you pick at your face often, or are trying to get over the habit (and you should be trying!), Aloe might be a great natural remedy for it.
Just like Tea Tree Oil, Aloe also has antibacterial properties that helps in reduce acne and is easy to find in 100% pure format, such as directly extracted from the plant or you may use  ready-to-use Aloe Vera Gel as well.
Method: Make use of your hands to apply the Aloe Vera (we recommend this brand) juice onto your face. Leave it on for about 20 minutes or until it dries and then wash it off. Repeat this process for a week and you will notice the stunning results.
When it comes to treating acne scars, Cucumber is considered to be one of the best home remedies for it. Cucumber paste, used as a natural remedy for acne which helps to fade and lighten the appearance of stubborn scars quickly.
I do not suggest using lemon juice for acne scars (which has the same results), because lemons are acidic and can sting to certain people. Cucumbers, on the other hand, will not dry out and harm your face, but can still lighten scarring.
Method: When using it for scars specifically, you can use paste masks (We use and suggest this brand) which are easily available over the counter. However, you can use it in it's natural form as well, just cut a fresh slice of Cucumber and start rubbing onto your face gently and wash it off after 20 minutes.
Turmeric is a flowering plant of the ginger family, native to South Asia and prized for its roots. These roots are commonly boiled in tea or finely ground to produce turmeric powder, a spice that is a staple of Indian cuisine (close in taste to saffron).
Beyond adding flavor to dishes, turmeric is also known to have medicinal qualities, both when consumed and when applied topically to the skin. It has long been used as a beauty aid and is not only effective for acne relief.
Most of the acne home remedies that incorporate turmeric use it as a thickening agent in facial masks or lotions intended to kill bacteria in your pores and alleviate redness and swelling. These uses often give faster results than taking turmeric internally, but keep in mind that they target current acne and cannot prevent future breakouts.
1. Mask Recipe: Mix 2 parts yogurt with 1 part turmeric powder and 1 part honey. This thick and sticky combination is easy to apply your face and should be left on for the usual 15 minutes before rinsing off.
All the ingredients are great for combating irritation and infections, with an emphasis on moisturizing and soothing the skin. Just don't leave it on for too long.
2. Lotion Recipe: Start with turmeric powder and mix in equal parts warm milk and tea. You can decide how dense you want the lotion to be (it starts out as a thick paste) by how much milk and/or tea you use (using both is optional).
Add the liquid slowly and stir. Warm whole milk works best, and you can use your choice of green/black/white tea. Massage the lotion into your face for a few minutes and rinse.
This recipe combines the antibacterial punch of a good acne cleanser with skin-nurturing vitamins and minerals.
Source: Stylecraze.com
Neem seed oil is extracted from cold-pressed seeds and is usually applied to the skin topically, although it can also be taken as a supplement.
Neem oil has a wide variety of uses, from disinfecting minor wounds to treating cavities and repelling bugs such as mosquitoes (it is sometimes sprayed on plants to stop insect infestation). While there have been no direct studies on acne sufferers, Neem is proven to have antibacterial, anti-fungal and anti-inflammatory properties, so it's easy to see why it would help.
Whether you're using it as an oil, a powder, or simply ground-up leaves, neem mixes well with a variety of other acne home remedy ingredients. Powders and clays make for a natural combination, although you can also combine it with other liquids such as olive oil or rose water for a powerful moisturizing effect.
1. With Turmeric – These two Indian herbs are staples of Ayurvedic medicine, making this a popular combination. Slowly mix neem oil into turmeric powder to form a paste (about 1 to 1), then apply to your skin and let sit for 10-15 minutes before rinsing off.
This mask is great for relieving redness and swelling from acne blemishes (just don't leave it on for too long if you don't want the turmeric to die your skin orange).
2. With Clay & Lemon Juice - Mix a teaspoon of neem oil and a few drops of lemon juice into a clay mask (French, mint julep or bentonite clay all work) and massage it into your skin, leaving it on for 15 minutes before removing. Helps to both rejuvenate the skin and promote exfoliation.
3. With a Warm Compress - This one is simple and effective. Apply a thin coat of neem oil to your skin and let sit for 10 minutes, then lie back and drape a warm, wet cloth over your face for another 5 mins. The steam and moisture will work with neem to draw out impurities and unclog your pores.
Neem seed oil may not be the solution for severe acne breakouts, but if used prevent clogged pores or heal current blemishes faster it can certainly help. And hey, everybody likes fewer skin mites!
Some sources claim that lavender and rose water are effective remedies to banish acne scars. Biologically speaking, they don't do much to cleanse your face or kill bacteria. The reason people have luck with these kinds of treatments is because aromatherapy can relax and reduce stress.
And there's nothing wrong with that, if you're threatening to pull out all of your hair over your condition and want to treat your skin and enjoy aromatherapy. Then these kind of treatments will not worsen your acne, even if they don't directly help.
They may not be effective if you suffer from bacterial acne, but if your acne is stress and hormone related and you're at the end of your line, go ahead and boil lavender for a steam wash, and then rinse with rose water.
Sometimes giving you a little personal spa treatment is important for a healthy mind.

The 10 Best Acne-Fighting Products Of 2018
After spending 20 hours researching dozens of Acne-fighting products, we are here with the list of Top 10 products for Acne prone skin that would surely help you to combat this problem from the roots.
Neutrogena is a reputed name amongst the people looking for solutions to get rid of acne problems. Neutrogena Clear Face Lotion protects your skin from the sun rays and allows you to move freely under the sun.
This Sunscreen Face Lotion is basically designed to protect and sun guard your skin. Surprisingly, this face lotion has been formulated using latest Helioplex® technology that assures to protect your skin from harmful UVA/UVB rays.
This face lotion is considered one of the best lotions of clearing your face. Once you apply this lotion over your face, you would feel weightlessness, and easiness to breathe.
Highlighted Features
This clear face lotion is oil-free
Its water-repelling nature keeps your face protected from water for up to 80 minutes time.
Offers superior protection from Sunrays.
This Exposed Skincare Facial Cleanser is one of the best face treatments for getting clean skin.
If you are looking for some gentle face wash that cleanses your skin gently without causing any irritation or harm, then Exposed Skincare Facial Cleanser is a perfect choice for you.
One of the main ingredients of this cleanser includes alpha and beta hydroxy acids and extracts from olive leaf.
Highlighted Features
Removes dirt and other impurities from your face.
This cleanser penetrates deep inside your skin, clears pores, and removes excess of oil from your face.
No harsh chemicals added
This Lavo Clarifying Facial Cleanser designed especially for Men comes with an exfoliating formula that helps to clear blogged pores, impurities, remove oil, and fight acne-like problems.
Some of the ingredients of this cleanser include Glycolic Acid, Salicylic Acid, and Lactic Acid that penetrates deep into the pores and dissolves impurities to clear off blocked pores.
Pineapple and Papaya Enzymes acts as an Exfoliator that helps to remove dead skin cells in order to give younger-looking skin.
Highlighted Features
Removes Blackheads or Whiteheads
Best for treating Acne
Suits Oily and normal Skin-type
Treats blemished Skin
Helps in clearing blocked Pores
CLEAN & CLEAR Dual Action Moisturizer, as the name suggests has Dual Action. This oil-free moisturizer fights acne very well.
If you have dry skin and your dryness isn't leaving you anymore, try this Dual Action Moisturizer that not only moisturizes your skin but also treats acne. Apply this moisturizer and your skin would definitely feel lighter and softer than ever.
You need to cleanse your skin before you apply this moisturizer. Then apply a very thin layer of moisturizer almost 2-3 times in a day to keep your skin moisturized.
You can start applying this moisturizer only once a day and check its effects so that you can increase the moisturizer applying rate gradually.
Highlighted Features
Best suited for dry skin
Can be used to treat pimples
Helps you to get rid of acne-like problems.
This Active Charcoal Face Mask contains charcoal as one of the main ingredients that draw out impurities and clear pores. Lecithin dissolves unwanted impurities and removes them from the face. White China clay doesn't allow environmental toxins to harm your skin in one or the other way.
This Charcoal face mask is one of the best face masks to clear your skin pores in a very user-friendly way. Check out here the complete list of best face masks for acne prone skin.
Highlighted Features
Can be used on Oily, normal, or a combination of both skin types.
Perfect for cleansing your face.
Clear deep pores easily.
Can remove blackheads from your nose.
People with dull and uneven skin tone can try this Face mask for best results.
This Murad Acne Complex Body wash works with a triple-action formula for treating acne, cleansing the overall body, and any breakouts.
If you are looking for a solution to any of these problems, then Murad Body Wash is a perfect Triple-action body washes for you.
The main ingredients of this body wash include Glycolic and Salicylic Acid. Both of these acids work together to cleanse pores that are buried deep inside your skin.
Highlighted Features
Best suited for Men or Women with acne-like problems
Any open pores or breakouts issues are treated easily
Can be used to treat back acne
Apply this body wash over your skin and get younger-looking and youthful skin
Prevents the occurrence of acne and breakouts.
Since we are talking about Acne prone skin solutions, Skincare Ldel Cosmetics Retinol Day Cream is one of the best solutions to fight those horrible signs of aging.
This day cream formula contains Vitamin A and Vitamin E. Both of these Vitamins have strong potential to protect your skin.
If you are looking for a younger, smoother, nourishing, and a refreshing skin, then Retinol Day Cream is a perfect cream for you.
Vitamin E acts as an antioxidant that helps this cream to fight our skins' free radicals. Where Silk Amino Acids, one of the main ingredients of this cream nourishes and moisturize your skin.
Highlighted Features
This Skincare Ldel Cosmetics Retinol Day Cream has been formulated in such a way that makes it one of the best day creams for treating fine lines from the roots.
SPF 20 formula protects your skin from harmful UV rays of the sun
Vitamin A improves your skin texture and smoothens it.
Vitamin E acts as an antioxidant that fights free radicals
#8. Clear-Biotic + - Best Vitamin Supplement For Acne Prone Skin
Clear-Biotic is an oral supplement that comes loaded with essential Vitamins for skin rejuvenation.
If you are facing acne, pimple breakouts, facial blemishes, uneven skin tone, or any immunity problem, then Clear-Biotic is a perfect choice for you.
As per dermatologists, this oral probiotic supplement is helpful for treating problems like eczema and dermatitis as well. This oral supplement is one of Nu-Derm Products and contains vitamins A, C, E, and riboflavin.
Highlighted Features
This oral supplement is produce following Good Manufacturing practices.
All Vitamin supplements benefit your skin in one or the other way.
Treats problems like eczema and psoriasis.
This Art Natural Organic Oil is a multi-tasker.  Its strong ingredients list includes Vitamin E that helps to clear deep-pores. This oil can be gently massaged to moisturize the skin, nails, hairs, and works great on kids as well.
If you are a health and beauty conscious, then this jojoba oil should be your one-stop choice.
This Art Naturals Organic Jojoba Oil comes loaded with 3 bottles each containing 4-ounce Tea Tree Oil, 10 ml customized-Chi, and Zen bottles.
Highlighted Features
This oil is made from 100% natural ingredients.
This oil has been obtained from the seeds of the Jojoba plant.
Anti-allergenic oil
Suits people of all skin types.
Vitamin E helps in getting healthy and clear-looking skin
If your tightened skin or clogged pores are ruing your personality, then La Roche-PosayEffaclar Astringent Micro-Exfoliant Facial Toner is worth trying.
Its micro-exfoliating action clear pores and helps in reducing pore size at a noticeable rate.
This Facial Toner can be used on a daily basis. Lipohydroxy acid, LHA-grade micro-exfoliation toner shows instant results and helps to instantly clear blocked pores. If the uneven skin is bothering you, you can try this toner and see the magical effects yourself.
Highlighted Features
This product works great as a Toners and as an Astringents
LHA grade-Toner acts as a micro-exfoliator
Best suited for large-sized clogged pores.
Don't apply this toner around your eyes.
Taking Good Care of Your Skin
Protect Your Skin From Direct Sunlight – Ultraviolet rays are likely to worsen the appearance of your acne scars. If you are spending much time on the sun, you are advised to wear a sunscreen or wide hat that will create a shadow on your face.
Gentle Skincare Products – Some people get desperate in their process to get rid of these scars. They therefore tend to use harsh and lousy products that could damage your skin further. If you realize that your skin is reacting to a particular skin product, you should stop using the product immediately. Also avoid using hot water, rough facecloths, loofahs and rough sponges.
Regular Exfoliation – Exfoliating your skin helps to remove dead skin thereby exposing new and fresh skin layer. Considering the fact that acne mostly affects the top layer of the skin, exfoliation will speed up the process of scar fading.
Stop Picking The Red Spots And Scars – Although you will be tempted to pick these scars and red spots. You should resist the temptation all the time, picking them will definitely worsen their appearance. Picking the red spots will result in scars that would otherwise have been avoided.
Eat a Balanced Diet And Drink Plenty Of Clean Water – Staying healthy and hydrated will give your body the necessary ammunition required to fight these scars. Water helps your body get rid of toxins.
Wrapping Up
If you are suffering from acne, then the best thing you can do to get it treated right away. You may try over the counter acne treatments, but if they don't work, you should see a dermatologist.
Always remember, early intervention is important if you want to avoid any of these types of acne scars. Once scars are formed it can be very difficult and very expensive to get rid of them.