Most of us have them: moles that are just not in the right place. If you happen to have a mole on your face, you would probably think of completely ignoring or despising it.
Unless you're Cindy Crawford, you may have recurring thoughts of getting rid of your mole one way or another.
Typically, moles can be removed surgically, and the rate of a mole removal surgery is around $100 to $500 for each mole. But if you never want to go under the knife for such a little thing, don't fret.
Here are a number of ways you can do to remove your mole without undergoing a medical procedure.
15 Best Home Remedies to Remove Moles From Face and Skin
1. Aloe Vera
Aloe vera is known to treat many skin issues. For treatment of moles, you'll need to apply fresh aloe gel on the mole and cover it with a cotton bandage for 2-3 hours. Do this twice daily until you get the desired result.
The enzymes and minerals in the aloe vera will work to slowly remove your mole. It's going to take some time, but the wait will truly be worth it.
Ingredients needed: Aloe Vera Gel (we suggest this brand) and Cotton Bandage
2. Garlic
If you need a quick way to get rid of moles, garlic will do the trick. You need to make a paste by crushing a clove of fresh garlic. Apply this on the mole several times a day and once to leave overnight. Cover the mole and wash clean in the morning.
The garlic will work by forming a scab over the mole. The mole will eventually fall off along with the scab.
Ingredients needed: Fresh Garlic
3. Onion Juice
Grate a quarter of an onion and squeeze to extract some juice. Apply the juice directly on the mole and leave on for, at least, an hour before rinsing off. You can do once in the morning and once at night. Onion has strong acids that will get rid of any moles painlessly.
Ingredients needed: Fresh Onion and cotton ball
4. Apple Cider Vinegar
Apple cider vinegar is another strong acid that can eventually make the mole fall off from the skin. Simply dip a clean cotton ball into the vinegar and place it on the mole. Keep it in place for up to 6 hours with tape or a bandage and rinse off afterward. You can repeat this process until the scab has formed.
Ingredients needed: Apple cider vinegar (Suggested brand) and Cotton balls.
5. Grapefruit Seed Extract
Grapefruit seed extract is loaded with Vitamin E, which protects the tissue from free radicals. It also happens to act as an astringent. By applying the extract directly onto the mole, leaving it covered for about an hour.
The natural astringent in the extract will work to make the mole fall off. The vitamin E, on the other hand, will help the skin heal beautifully after.
Ingredients needed: Grapefruit seed extract (Recommended brand) and Cotton ball
6. Iodine Solution
There's a reason why iodine is used as a medical disinfectant. Its cleansing properties are so strong that they can make a mole flake off after repeated application.
You can apply an ample amount of iodine solution directly onto a mole and do so twice daily until the mole disappears. Make sure to protect the area around the mole by applying petroleum jelly.
Ingredients needed: Iodine Solution (We recommend this brand) and Petroleum Jelly
7. Castor Oil
Castor oil can be combined with baking soda to make a paste that can remove moles. You can leave this paste on covered overnight and repeatedly do so every night until the mole is gone. The baking soda works to dry out the mole while the castor oil protects your skin from scarring.
Ingredients needed: Castor Oil (Use this popular brand) and baking soda.
8. Potato Slices
Potatoes have natural bleaching properties that can not only lighten moles but also slough them off completely.
To do this, you'll need to rub a small piece of potato on your mole for a couple of minutes. Leave the juices on for as long as possible and repeat as needed. You can also keep a small slice of potato on top of your mole with a bandage. Let this piece decompose on your mole, which will eventually fall from your skin.
Ingredients needed:  Half Potato and cotton bandage
9. Oregano Oil
When mixed with castor oil, oregano oil can remove moles as well. Mix a couple of drops of each of the two oils and apply the mixture onto the mole. Leave this on until the next application, and you should apply at least 2-3 times every day until your mole is removed.
Ingredients needed: Castor oil, Oregano oil (Make use of this brand) and cotton swab
10. Banana Peel
No one will ever expect that banana peels have any other use than the compost bin. However, the natural acids and enzymes in banana peels can actually work to remove moles.
By placing a small piece of the peel onto the mole, you're exposing it to all the natural remedy. Leave this on overnight and repeat until you get the results you want.
Ingredients needed: Fresh Banana peel
11. Frankincense Oil
A couple of drops of frankincense can do all sorts of wonder for your unwanted mole. Frankincense also has astringent properties that can dry out the mole until it forms a scab and falls off. Apply the oil up to 4 times every day until the mole is gone.
Ingredients needed: Frankincense Oil (Use this brand) and cotton swab
12. Baking Soda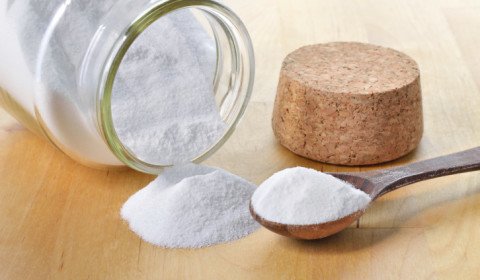 Baking soda can be applied on its own also. You can make a paste with water to leave on the mole overnight. Baking soda has bleaching properties that can lighten your mole and eventually make it fall off. While this may take longer than other methods, it works if you keep doing it on a daily basis.
Ingredients needed: Baking Soda and water
13. Flaxseed Oil
Mix a couple of drops of flaxseed oil with a couple of drops of honey. Apply this mixture directly onto the mole and leave for at least an hour. Rinse it off with water afterward. You can do this process twice daily, maybe once in the morning and once before bed.
Flaxseed works to improve skin texture and has the capability of removing moles.
Ingredients needed: Flaxseeed oil, honey and water
14. Pineapple Juice
Pineapples are highly acidic fruits. They are rich in citric acid, which can weaken the structure of a mole and make it disappear eventually.
Apply pineapple juice on the mole by rubbing a small piece of pineapple on it. After a few minutes, wash off the juice and repeat the process several times every day until the mole is completely gone.
Ingredients needed: Raw Pineapple or make juice of it.
15. Tea Tree Oil
This oil has been known to help cure many skin problems. Tea tree oil has astringent properties  that can dry up a mole until it eventually falls off as a scab.
Simply apply the oil with a cotton swab onto the mole and the surrounding area. Keep the oil on the mole as long as possible and repeat, at least, twice a day. It should take a couple of weeks before you notice any changes.
Ingredients needed: Tea tree oil (we recommend this brand) and Cotton swab
Final Thoughts
Moles don't have to stay on your face if you don't want them there. These natural remedies are a sure way to get rid of moles. If you find that one remedy doesn't work for you, try a different method. One of them is bound to get rid of your unwanted mole once and for all.